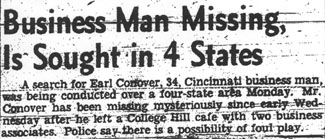 This was the headline of the first of a dozen newspaper articles I saw on the fax machine on August 8, 1996. It's from the Cincinnati Post, on Valentine's Day, 1949. I had talked for the first time with my Uncle Lou the night before, and he mentioned I might find newspaper stories about Earl Conover (a name new to me). The Public Library of Cincinnati and Hamilton County sent me these stories from their microfilms over the next three days.

This story continues:
Mr. Conover lives at 2600 Marsh avenue, Norwood, and is a partner in the Tri-State Offset Co. lithographing firm at 817 Main Street. Police in Ohio, Kentucky, Indiana, and Michigan have been alerted to watch for his auto, a 1947 maroon Studebaker bearing the Ohio license 27-EC.
While the search went on, his daughter Judy was given two albums of children's records which he had bought for her ninth birthday on Monday.
Mr. Conover disappeared after leaving the Mardi Gras Cafe at 6118 Hamilton avenue, College Hill, with his business partner, Buford Payne, of Greenhills and an employee, Russell Smith, of Cheviot. That was about 1:30 a. m. Wednesday.
"We all left at the same time for our cars, which were headed in different directions," Mr. Payne said. "Mr. Conover's car was in the front of the cafe. I didn't actually see him get in it, but I assumed he did."
"One of the last things he said was 'I'll see you in the morning.' I didn't know anything was wrong until his wife called me a little after 8 the next morning. I'm afraid he might have met with foul play."
Mr. Conover's wife, Ruth, said she was completely baffled by his disappearance. She said he had been working hard lately. Besides the possibility of foul play, police are looking into the possibility he may have suffered amnesia.
Mr. Payne said they drove to the College Hill cafe for a sandwich after attending a meeting of the Lithographing Club at the Gibson and watching a demonstration of new lithographing plates at the Methodist Book Concern.
Both Mrs. Conover and Mr. Payne said they didn't believe Mr. Conover had more than $20 with him Wednesday night.
Mr. Conover has been an active member of the Norwood English Lutheran Church and the Norwood Masonic Lodge.
Mr. Conover is six feet tall and weighs 220 pounds. He wore a brown suit and topcoat and brown shoes. He was hatless.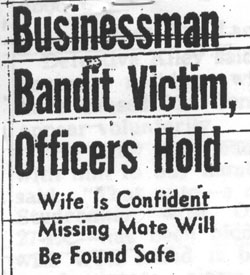 This is from the Cincinnati Post, page 1, on February 24, 1949. The story:
A two-week investigation of the mysterious disappearance of Earl Conover, young businessman, has produced only one logical theory--murder--Norwood police said Thursday.
But the wife, Mrs. Ruth Conover, of 2600 Marsh avenue, Norwood, clings to a faint hope based on a statement by their daughter, Judy, 9. "I saw Daddy in his car on Smith road on my way to school." Judy told her mother the day after Mr. Conover disappeared.
"I keep telling myself he's an amnesia victim," Mrs. Conover said. "But I'm afraid something terrible has happened--Earl never would have let anyone rob him."
Lee Kiley, Norwood detective, said he "is satisfied" that Mr. Conover was slain. He believes that Mr. Conover--"a stubborn man"--resisted bandits who killed him and then drove his car into a gravel pit or fishing lake to conceal the crime.
Tire Marks Missing
Detectives Kiley and Clifford Wolfe searched in vain for tire marks at a gravel pit which Mr. Conover would have passed on his way home the night he disappeared. This is Willie's Fishing Lake, off Hillside road, near Elmwood Place.
Mr. Conover, 34, a partner in the Tri-State Offset Co. lithographing firm at 817 Main street, last was seen about 1:30 a. m. on Feb. 9. This was when he left the Mardi Gras cafe at _____ Hamilton avenue, College Hill, and presumably headed for home.
The lithographing firm has posted a $1000 reward for information of Mr. Conover's whereabouts.
Clues are Lacking
Detective Kiley said he had uncovered nothing which might have caused Mr. Conover to disappear voluntarily.
"He only had enough money with him to buy hamburgers," he said. "That auto--a maroon 1947 Studebaker with Ohio license 27-EC--has been hidden. Otherwise we'd found it before now."
Mrs. Conover said there "was no reason in the world for Earl to disappear voluntarily. We were very happy. Neither our savings nor checking accounts have been touched. All of his clothes are still here."
Active in Church
Mr. Conover was one of the most active members of the Norwood English Lutheran church. he had served two terms as president of the board, leaving the board only because the church rules call for a year's lapse between a second and a third term. He has been chief usher, superintendent of the Sunday school, and president of the Men's club.
The Rev. John Hofer, pastor, called him "a man of real character. he was a big help to me, and was held in high esteem by all the members."
Mr. Conover also was a member of the Norwood Masons. Besides Judy, there is another child, Bertha, 15 months. On her ninth birthday--a few days after her father disappeared--Judy received his present, three albums of records..