The Flannery and Puthoff Family
Mathilda Puthoff married Patrick Joseph Flannery in 1904 in Cincinnati. He was the youngest sibling of my great grandmother, Annie {Flannery} Connelly. Mathilda is descended from a family that came to the United States in the 1840's and 1850's from Damme, Oldenburg, where relatives can found to this day. (To see where Damme is located, click here.)
Her father Henry, and his brother Bernard operated a grocery and saloon in the Over the Rhine section of Cincinnati; their younger brother Frank was a cigar maker in the same neighborhood. When they arrived in Cincinnati, they not only found a thriving community of Oldenburg families, but a lot of Puthoff relatives as well.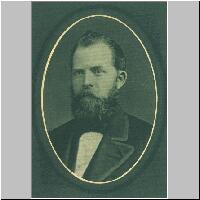 Henry Puthoff ,1832-1897
Patrick Joseph Flannery grew up on Mt Adams, and regularly visited his friends and relatives there. It was on one of those visits in 1931 that he was struck by a speeding car driven by a teenager and killed. His pall bearers were Patrick Connelly, who was my grandfather, and James, John, and Bill Connelly, his brothers.
Patrick worked in the printing trade, as did many of his Flannery and Connelly relatives. My mother, Martha Connelly, was employed at Rainbow Litho Co in the late 1940's, the same firm Patrick worked at before his death.
To view some photographs and documents about this family, see the photo album.
To see a genealogy report of the descendants of Frans Puthoff and Anna Marie Meier from Damme, Oldenburg, click here. There are also links to the Flannery family and the Connellys at this web site.
Many thanks to M E Flannery, K Hickman, and A & L Woebkenberg for their assistance given me on this project.