In 1868, Noah bought 27 acres of land from William Shotwell in the Buford survey of Sterling Township. This survey was about 2.5 miles from Noah's residence north of Crosstown, on today's Greenbush West Road near Malady Road. This particular tract was bordered by lands of John Bradford, Joseph Snider, Isaac Jester, as well as William Shotwell. In September of 1872, Shotwell sold another sixteen acres to Noah, this time bordering on Joseph Snyder's line and the schoolhouse property. This transaction was witnessed by Archibald McLain and L G Waits. Noah paid $360 for this parcel.
Just a few days later, Noah sold his interest in the 27 acres he first bought from Shotwell to Isaac Jester, the transaction being witnessed by T Simonton and Hattie E Myers. Noah had paid $675 for the land originally, yet he sold it to Jester for $400.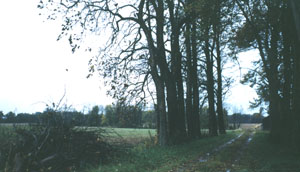 A scene in Sterling Township, probably Isaac Jester's land which Noah owned for a time.
Isaac Jester bought another eight acres from Noah for $160 in June of 1873, this time the parcel being described as bordering the properties of Joseph Snider, Hutton, and Isaac Jester. T Simonton and Hattie E Meyers witnessed. George Hutton paid $100 for 5 1/4 acres in 1874. This land is described as bordering the schoolhouse, and Hutton's and Jester's lands. A corner of Henry Runion's land is also mentioned.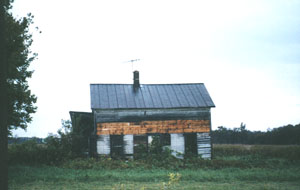 On the site marked as "H Runion" on the 1876 atlas.
This last transaction was witnessed by T Simonton and Amanda Conover, Noah and Lucinda's daughter. You'll notice the buys and sells here don't add up; 2 3/4 acres are unaccounted for. This suggests I haven't found all of Noah's transactions in this area. Another possibility, which is speculation on my part, is that since the schoolhouse property was mentioned in the later deeds, but not in the earlier, that this small parcel was donated by Noah for the school.
In 1868 Noah was 66 years of age, son William was in Marathon, and Mary Harriet was in Loveland. The approximate ages of his remaining children were: John 20, Granville 17, Amanda 14, Charles 11, Ruth 9, and Elmer 6.
I suspect that the land on Buford's survey was used strictly for planting, and that the family continued to live at the Bloomrose Road location, with the older boys sharing in the farming activities.